To all bikers out there who live to ride, Garmin is calling out with the outstanding widget that will be backing you through out your journey.  
Premium GPS Motorcycle Navigator
5" dual-orientation, sunlight-readable, glove-friendly touchscreen display
Hands-free phone control and spoken directions heard in-helmet via Bluetooth® technology¹
MP3 player; control iPod® and iPhone® right on the display
Monitor motorcycle tyre pressure on the zūmo 590LM display with the TPMS accessory (Metal valve stems only)³
Rugged; withstands fuel vapors, UV rays and harsh weather (IPX7 water rating)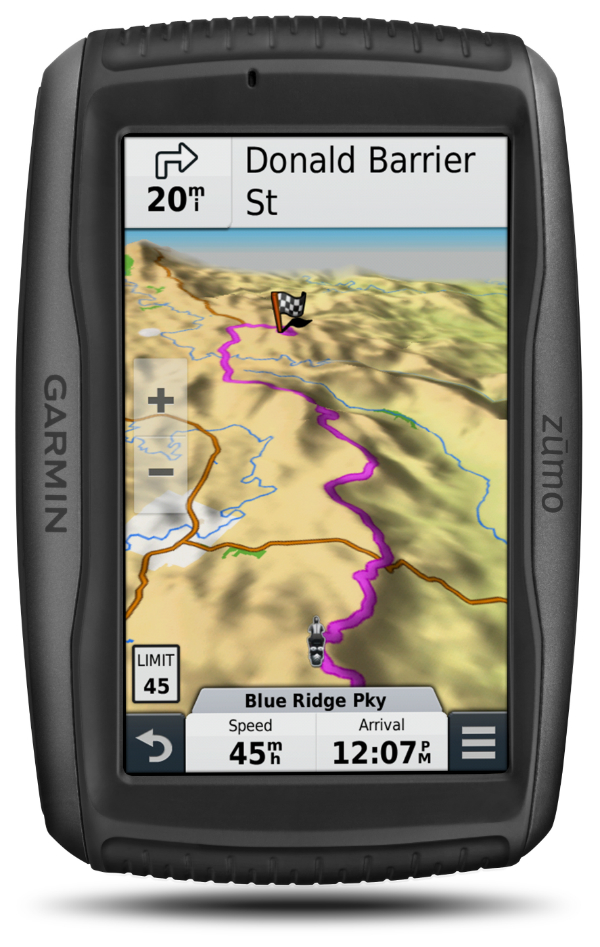 A Great View of the Road
zūmo 590LM has a big, bright 5.0 inch touchscreen display that is easy to read, even in sunlight. With dual-orientation, you can position the navigator horizontally, for a wider view, or vertically, to see more of the route ahead. And, thanks to its high-sensitivity, glove-friendly, intuitive interface, entering information is as easy as shifting gears.
The Power of Bluetooth
zūmo 590LM features Bluetooth wireless technology. With it, you're free to talk on your phone without having to remove your gloves or helmet. Simply connect zūmo to your cell phone and a Bluetooth-enabled headset or helmet to make and receive calls on the go. You can also call points of interest through the zūmo Bluetooth interface — perfect for last-minute change of plans or a quick stop for food and fuel.
Focus on the road by following spoken street names and navigation commands. zūmo 590LM can transmit voice prompts to your Bluetooth headset or helmet. Garmin Real Directions™ guide like a friend, using landmarks and traffic lights, rather than hard-to-read street names.
Music and Media
Ride to the beat of your own rhythm. zūmo 590LM includes an MP3 player and is compatible with iPod and iPhone® so you can conveniently control your music through its display.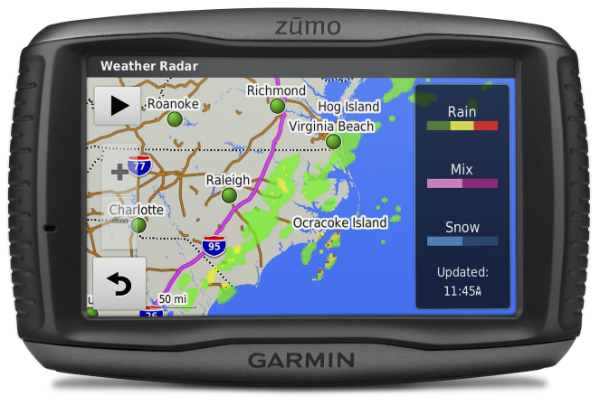 Easily Monitor Tyre Pressure
zūmo 590LM is compatible with our integrated Tyre Press Tyre Pressure Monitor Sensor accessory³ (sold separately). Add a TPMS sensor for each tyre and easily monitor the pressure using your zūmo display.
VIRB™ Compatible
zūmo 590LM is compatible with our VIBR action cameras(sold separately). Control VIRB using your zūmo display and you can easily record and relive every ride.
Tough and Road-ready
With a rugged design that is resistant to fuel sprays, UV rays and harsh weather, zūmo 590LM is built for life on the road. zūmo is thoroughly vibration- and drop-tested to withstand just about anything you can ride through.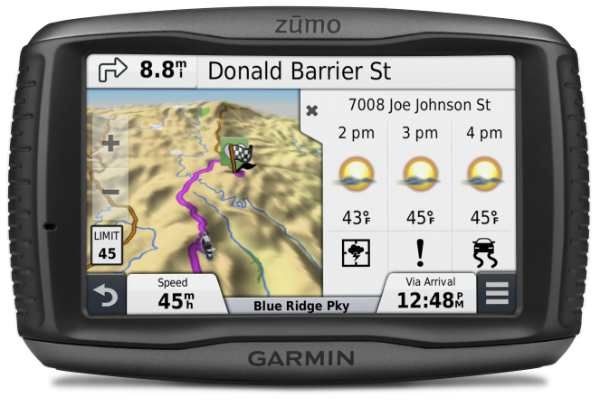 Ride Smarter with Your Smartphone
What's happening on the road ahead? zūmo 590LM can connect you to live weather radar and traffic information via the Smartphone Link app (subscription required).
Lifetime Map Updates
zūmo 590LM includes free map updates5 for the useful life of your device, so your routes reflect the most up-to-date POI, roads and navigation information available from Garmin.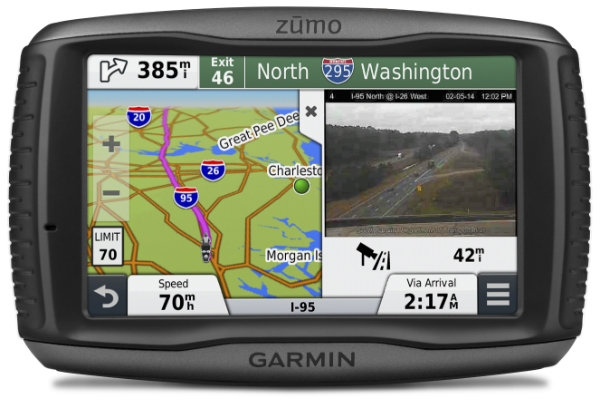 Find Your Perfect Route
Looking for a twisty ride? zūmo 590LM features Curvy Roads routing that navigates to winding rides. Round trip routing can plan your ride, according to time, distance or location. Just type in your requirements and let zūmo take care of the rest.
Service History Log
Tyre mileage, tyre changes, tire pressure, chain cleanings, oil changes, new spark plugs: let zūmo 590LM keep track of it all. Use the included Service History Log to record date, mileage and performed maintenance.
Search Field
Easily find addresses and millions of POI. Just type what you're looking for into the Search Field.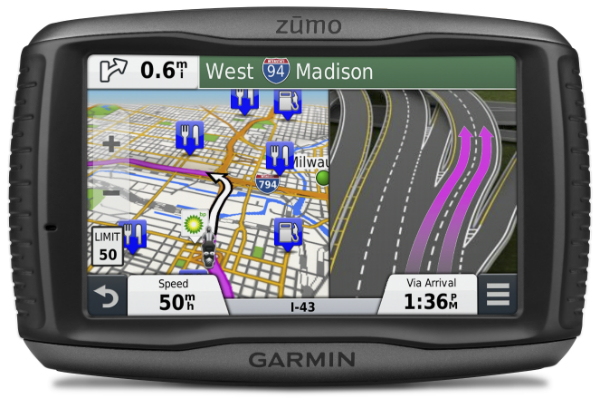 Navigate Complex Interchanges with Ease
Active Lane Guidance with voice prompts prepares you to ride through an exit or interchange with confidence. As you approach, an animated model uses brightly coloured arrows to indicate the proper lane needed for your route; a friendly voice offers additional help. Bird's Eye junction view offers a detailed view of interchanges, looking down as if from overhead. photoReal junction view realistically displays junctions and interchanges along your route, including the surrounding landscape. Brightly coloured arrows indicate the proper lane to ride.
More Information at a Glance
zūmo 590LM displays speed limit, current speed and time of arrival. With a quick glance, you can read the name of your current street. As you drive, you can easily see places Up Ahead – like fuel, food and ATMs – without leaving the map.
Especially for Off-road Adventures
zūmo 590LM supports TOPO and custom maps, so you have the freedom to download and follow your own adventure (additional mapping sold separately). zūmo 590LM depicts 3-D terrain so you know what to expect as you ride through the landscape. With TracBack®, you can navigate right back to where you started, along the same route.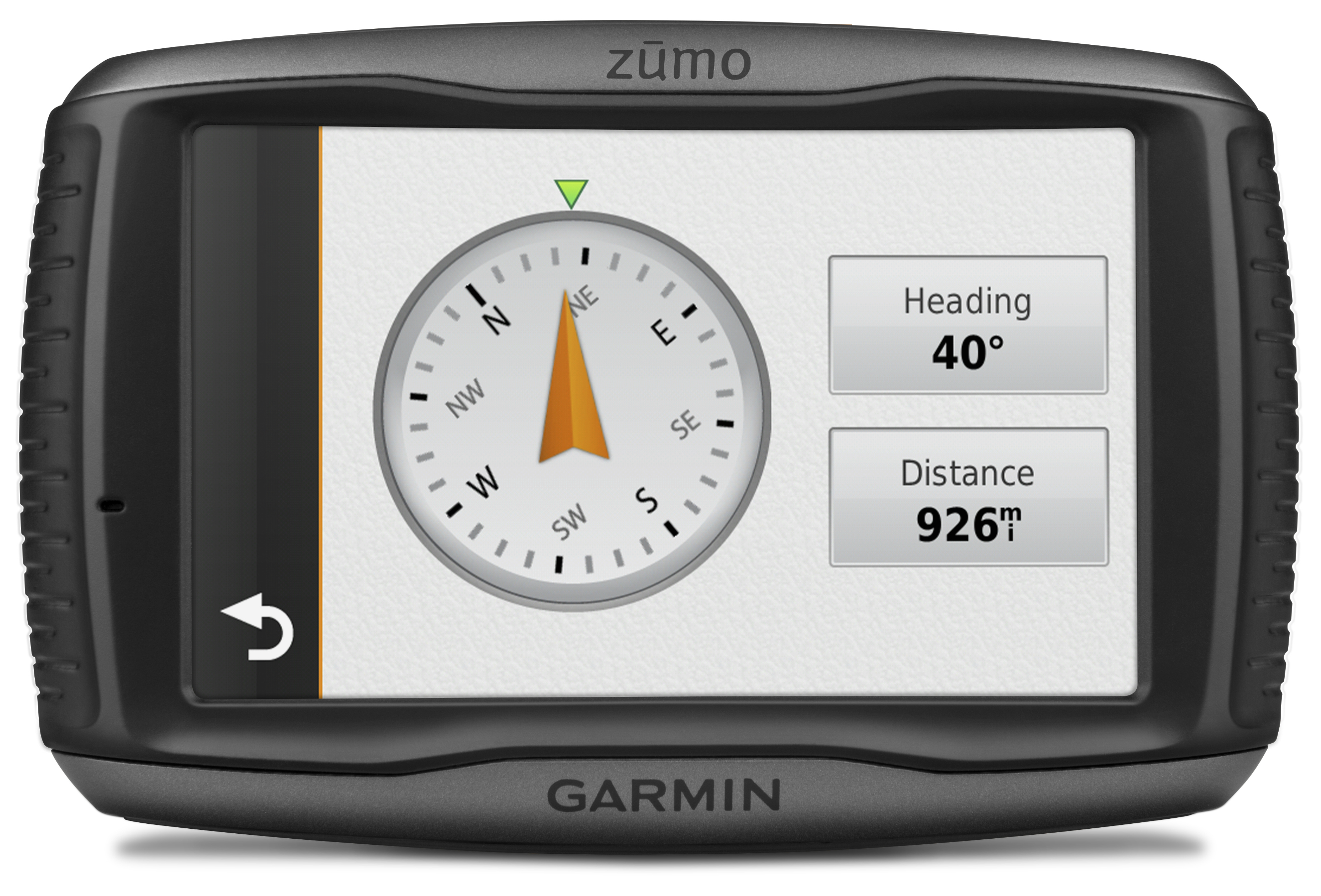 Extras
zūmo 590LM has a built-in trip computer with compass display. zūmo 590LM comes standard with a digital fuel gauge so you can keep track of how many miles you can ride before a fuel stop. A speed limit indicator lets you know when it's time to throttle down.
zūmo 590LM is powered by a removable battery. Swap with a backup and you can keep on riding. In addition to a motorcycle mount, zūmo 590LM includes an automotive mount and power cable for use in a car.
To buy Zumo 590LM or for any further information click on the below mentioned link: 
https://buy.garmin.com/en-GB/GB/on-the-road/motorcycles/zumo-590lm/prod145273.html